Description
Ideal combination of 4 proteins: Caseinate, milk protein isolate, whey and egg
Sustained contribution of amino acids for more than 7 hours
34g protein in Semi Skimmed Milk / 25g protein in Water
High in Protein, low in Carbohydrates & Fat
Has a high content of BCAAs
Vitamin B6 contributes to the reduction of tiredness and fatigue
Calcium contributes to normal blood clotting
Exceeding 80% Weider Protein 80 Plus contains an exceptionally high level of protein. Weider Protein 80 Plus is absorbed by the body very quickly and contains less than 2% fat, just what professionals need. It is also a product with very few carbohydrates.
Protein 80 Plus contains four protein types ideal to take between meals or just before sleep, because it provides us amino acids in a sustained manner for more than 7 hours so we avoid losing (catabolizing) muscle mass in long periods without food intake , between meals or during the night.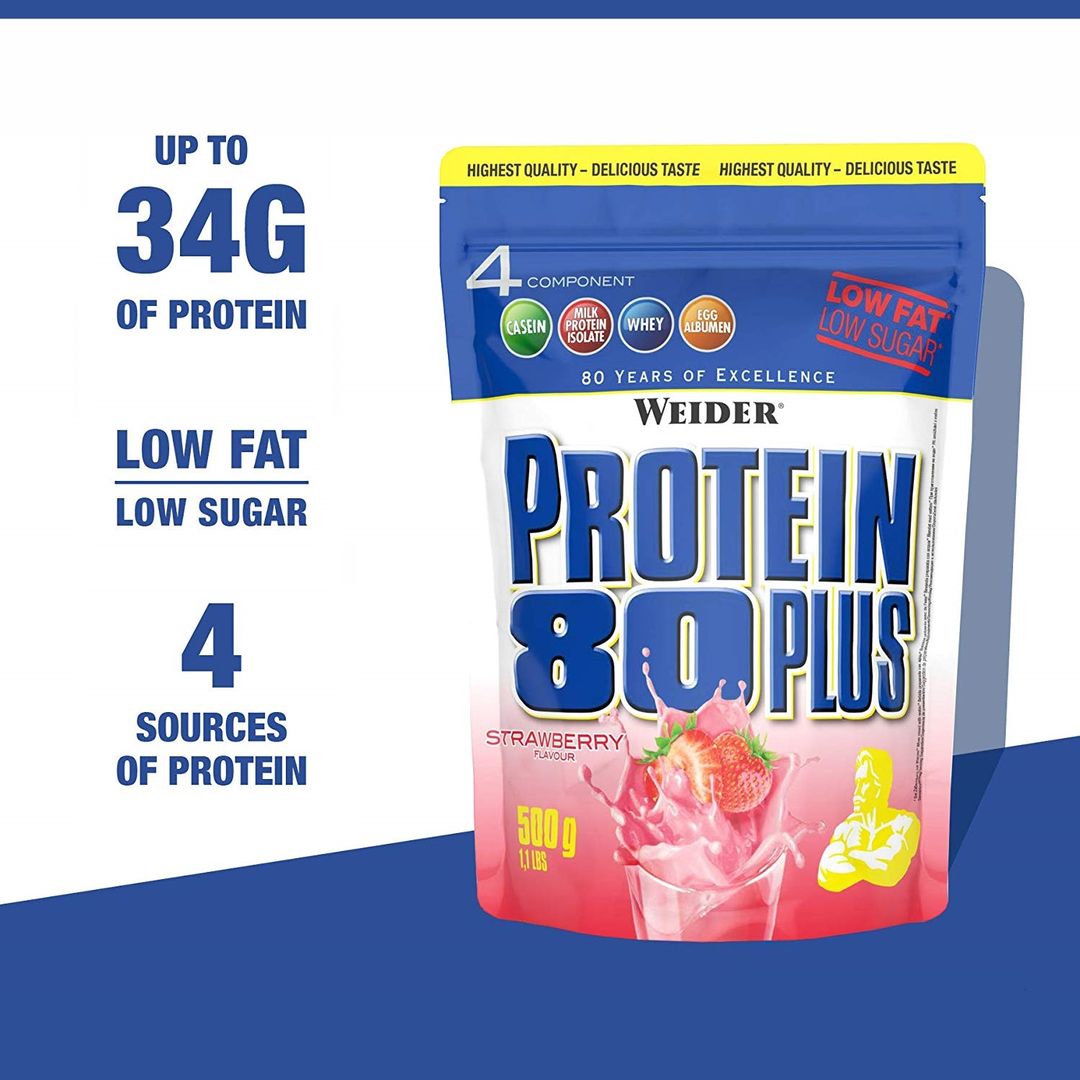 The magnificent combination of proteins that it presents is the following:
Milk Protein (Casein): Protein source of slow and prolonged release (for more than seven hours). High content of L-Glutamine.
Milk Protein Isolate: More than 90% protein in dry weight, low in fat and carbohydrates.
Whey Protein: Rapid assimilation protein. It provides, among others, branched chain amino acids (BCAAs).
Egg Protein (Albumin): Contains amino acids rich in sulfur, which increases the biological value of the product.
Directions for Use
Make one or two shakes daily (each shot of 30 g of powder, 2 tablespoons, in 300 ml of skimmed milk or water) with breakfast, between meals, after training or before bedtime.
Amino Acid Profile per 100 g Protein
L-Alanine 3,1 g
L-Arginine 3,5 g
L-Aspartic Acid 7,3 g
L-Cysteine 0,7 g
L-Glutamic Acid 19,1 g
L-Glycine 1,9 g
L-Histidine 2,7 g
L-Isoleucine 5,3 g
L-Leucine 9,4 g
L-Lysine 7,7 g
L-Methionine 2,6 g
L-Phenylalanine 4,8 g
L-Proline 9,2 g
L-Serine 5,5 g
L-Threonine 4,5 g
L-Tryptophane 1,3 g
L-Tyrosine 5,0 g
L-Valine 6,4 g
Package size:
2Kg: 66 servings
Serving size: 30g