Description
Promotes Extreme Nitric-Oxide Vaso-Muscular Expansion!
Non-stimulant pre-workout, caffeine and sugar free
Supports muscle growth and focus
Get a full, dry and vascular look in the gym
Proven, tested, unique ingredients
Gluten Free & Vegan
Try stacking H:Vol with the NEW AllMax C:Vol
H:VOL™ is the perfect caffeine-free pre-workout drink.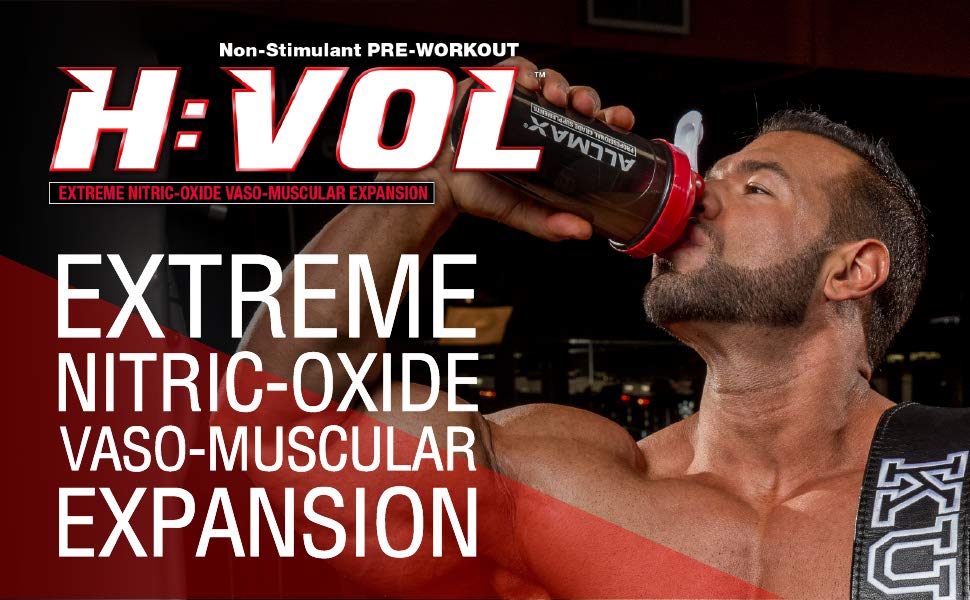 HVOL (HEMANOVOL): NON-STIMULANT PRE-WORKOUT
This wicked product is packed with great ingredients designed to give you a great pump, but these ingredients also help with strength, endurance, and recovery, so you're getting all the benefits of a fully loaded pre-workout, without stimulants. Good any time of day, especially if training later into the evening, without the after effects of drinking caffeine close to bed time.
HVOL is an excellent caffeine-free and sugar-free pre-workout, ideal for those who choose not to supplement with heavy doses of caffeine or include sugars in their diet.
Using this pre-workout is exactly what you need if you want to uncover the secret of exhilarating pump that will not only psych you up but help you build mass amounts of muscle. Supplementing with H:VOL will deliver insane pumps, a full, dry, and vascular look while you train and noticeable increases in muscle strength.
H:VOL STANDS HEAD AND SHOULDERS ABOVE THE COMPETITION
Besides being caffeine and sugar free, H:VOL was specifically designed to deliver the pump. A crucial component of muscle building, physical pressure on the cells caused by the pump during intense training triggers myofibril hypertrophy (muscle cell volumization).
While some pre-workouts are dosed with heavy stimulants to activate the central nervous system, H:VOL was specifically designed to activate MUSCLE HYPERTROPHY, the most necessary factor in muscle volume and growth. Don't be fooled by other pre-workouts that you can "FEEL". Make that mind to muscle connection and train for what matters most – the perpetual pump! With the right combination of only the necessary ingredients you need to grow; get bigger, faster with H:VOL.
DIRECTIONS
Workout Days: Take 1 Serving (9.5 g) with 6 oz. to 8 oz. of cold water 30 minutes before your workout.
Non-Workout Days: HVOL has a cumulative effect and should be taken on non-workout days as well. HVOL stacks well with CVOL.
SUPPLEMENT FACTS
Serving Size: 1 scoop (9.5 g)
Servings Per Container: 30