Description
Extreme Energy
Laser Like Focus
Unstoppable Power
Huge Pumps And Vascularity
Promote Fat-Burning
Reduce Muscle Soreness
Increases Motivation
For Men and Women
AS THE NAME IMPLIES, TOTAL WAR IS NOT FOR THE FAINT OF HEART
REDCON1 TOTAL WAR | PRE-WORKOUT
Designed to increase energy and endurance during every workout. This powerful combination of stimulants and nootropics along with N.O. compounds makes Total War an all-in-one pre workout supplement. Can be taken any time of day for a pre-workout energy boost.
WHY IS TOTAL WAR BETTER THAN THE COMPETITION?
It combines a powerful blend of NO compounds, stimulants and nootropics to take your workout to the next level. You will get more energy, more focus and more pumps than anything you have ever experienced. You will no longer be ready to head home after 30 to 40 minutes, you will want to pump iron for hours until you are pulled out of the gym!
DIRECTIONS & DOSAGE
When it comes time to bring noise for a workout, asses your tolerance by taking 1/2 scoop prior to training. Once your tolerance is assessed mix (1) scoop with 150 ml 30 minutes prior to training. Do not exceed (2) scoops in a 24-hour period.
Take this product for a max up to 12 weeks, before taking at least 4 weeks off before cycling again. Because this is a potent pre-workout supplement, Total War is only recommended for advanced users.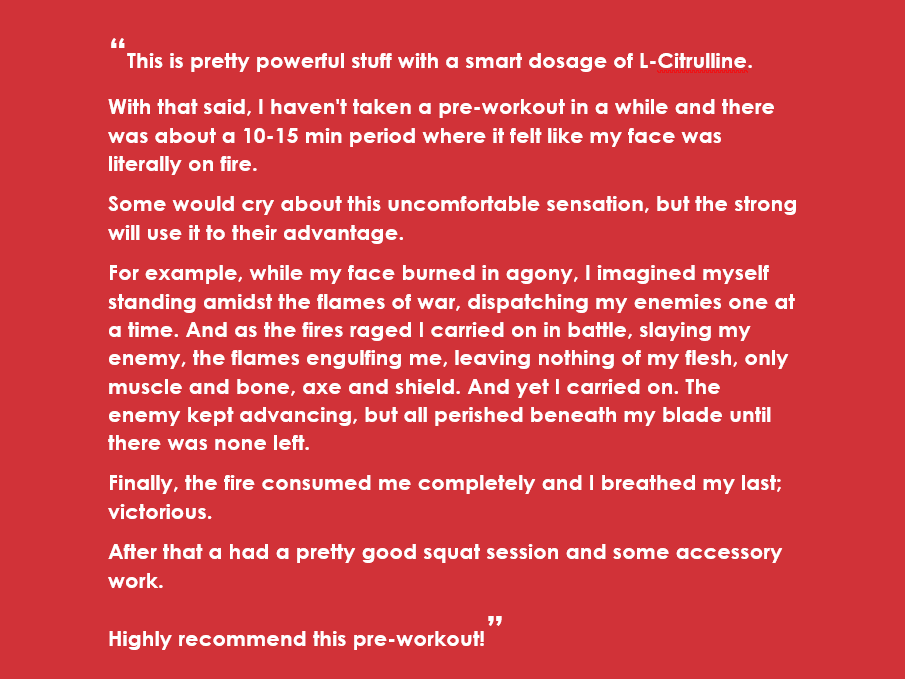 SUPPLEMENT FACTS
Serving Size: 1 Scoop
Servings Per Container: 30
L-Citrulline DL-Malate 2:1 6g
Beta-Alanine 3.2g
Agmatine Sulfate 1g
Taurine 1g
Caffeine Anhydrous 250mg
AMPiberry (juniperus communis)(berry) 150mg
Infinergy (Di-Caffeine Malate) 100mg
Cocoteanol (theobroma cacao & camelia sinensis extract)50mg
Naringin 98%(citrus grandis)(fruit) 25mg
Bioperine (Black Pepper extract)(fruit) 10mg
WARNINGS & SIDE EFFECTS
KEEP OUT OF THE REACH OF CHILDREN. This product is intended to be consumed by healthy adults 18 years of age or older. Before using this product, seek advice from your pharmacist or physician. Avoid using this product if you have if you have any pre-existing medical condition including but not limited to: high or low blood pressure, cardiac arrhythmia, stroke, heart, liver or kidney disease, seizure disorder, thyroid disease, psychiatric disease, diabetes, difficulty urinating due to prostate enlargement or if you are taking MAO Inhibitor or any other medication or supplements. Do not use if you are pregnant or nursing, prone to dehydration or exposed to excessive heat. Discontinue use and consult your healthcare professional.