Description
MUTANT — LEAVE HUMANITY BEHIND! — BIG GAINS IN MUSCLE MASS!
A TOP TIER BLEND of proteins, carbs, and essential fats
PREMIUM INGREDIENTS for maximum results
ADDED ENZYMES to deliver a higher payload of nutrients
REAL FOODS including oats, sweet potato, and avocado
Mutant's most popular weight gainer supplement that is packed with BCAAs/EAAs and waxy maize to help with growth and bulking. Made from natural whole-foods to include barley, sweet potato, rolled oats, avocado, coconut oil, flaxseed, pumpkin seed and sunflower oil.
Engineered in our own state-of-the-art manufacturing facility to maintain gold-standard quality and it comes with a great Gourmet taste.
MUTANT MASS ADVANTAGES
MOVE THE SCALE
One thing is for sure, in order to become massive, you will have to move the scale. That's where MUTANT MASS comes in. If you're going to battle, you're going to need the best weapons. Heavy weights, good quality food, and the best weight gain formula on the planet. With 56g protein, and 1100 calories of high quality nutrients, you will have the gainer you need to MOVE THE SCALE.
MUTANT QUALITY
The secret to MUTANT MASS' successful results is the array of quality food-based nutrients like sweet potato, and rolled oats. Fit fat sources that including MCT's and avocado. And of course top notch complete protein sources. This improved array of actual food sourced ingredients is where the new generation of MUTANT MASS gets its immense power.
MUTANT FLAVOUR
MUTANT knows how to do gourmet flavoring. MUTANT MASS includes flavours used by some of the very 'cream of the crop' ice cream brands in the world. This is a reason why MUTANT MASS has been so successful…we keep nailing the flavours. Over and over again.
HOW DOES MUTANT MASS WORK?
92% of all weight trainers never gain the mass they want. Mutant Mass was designed specifically to address this one, solitary need - pure added mass. The formula is light years ahead of what is currently available in weight gainers. OTHER gainers are mostly high sugar and high lactose simple blends of sugar and cheaper milk or whey proteins - Mutant Mass went all out to create the ultimate weight gainer.
HOW DO I USE MUTANT MASS?
To gain slabs of muscle that makes people notice, you need to break down the muscle first (that's doing the heavy training in the gym) and follow that up by feeding your wasted muscles. Assuming you are already eating 4 meals a day, take 1 serving of Mutant Mass immediately after training. You will feel your muscles surge with size, as the intricate array of super nutrients get taken right up into the muscle belly.
WHAT DOES THE PROTEIN MATRIX FOUND IN THE MUTANT MASS FORMULA DO?
Provides your body with 10 different sources of complete protein.
Includes a unique combination of fast-acting and slow-release protein sources.
Provides your muscles with a constant supply of amino acids to enhance muscle growth, tissue repair and recovery — all day long!
I KNOW PROTEIN BUILDS MUSCLE – SO WHY DO I NEED CARBS AND FATS?
Muscle tissue is almost all protein. But when you are training hard and trying to add slabs of strong, sinewy muscle, you have to make sure the protein ACTUALLY gets to the muscle. For that majority of people having problems putting on mass, valuable protein is being wasted and used up for energy BEFORE it can even get to the muscles. To fuel your body's energy demands, you need adequate sources of real fuel – carbs. Mutant Mass' 3:1 carb to protein ratio delivers the optimal ratio for building hard muscles fast. Your body gets the fuel (carbs) it needs for energy, while allowing the protein to get delivered to the muscles fully intact. And by using the ISO-STACK10 blend of 10 superior timed release proteins, you're delivering a timed release total gainer matrix; carbs first for energy and protein right afterwards for pure muscle building. You will feel the difference Mutant Mass delivers.
DIRECTIONS FOR MUTANT MASS
As a dietary supplement, add 24-32 fl oz (720-960 mL) of water to a blender or large shaker cup, then add 4 scoops (2 servings) of MUTANT MASS, blend or shake for 20-30 seconds.
You can also enjoy 2 or even 3 shakes a day. Our favorite way is to drink one shake first thing in the morning, a second immediately after training; or simply enjoy your shakes whenever you want an extra shot of protein.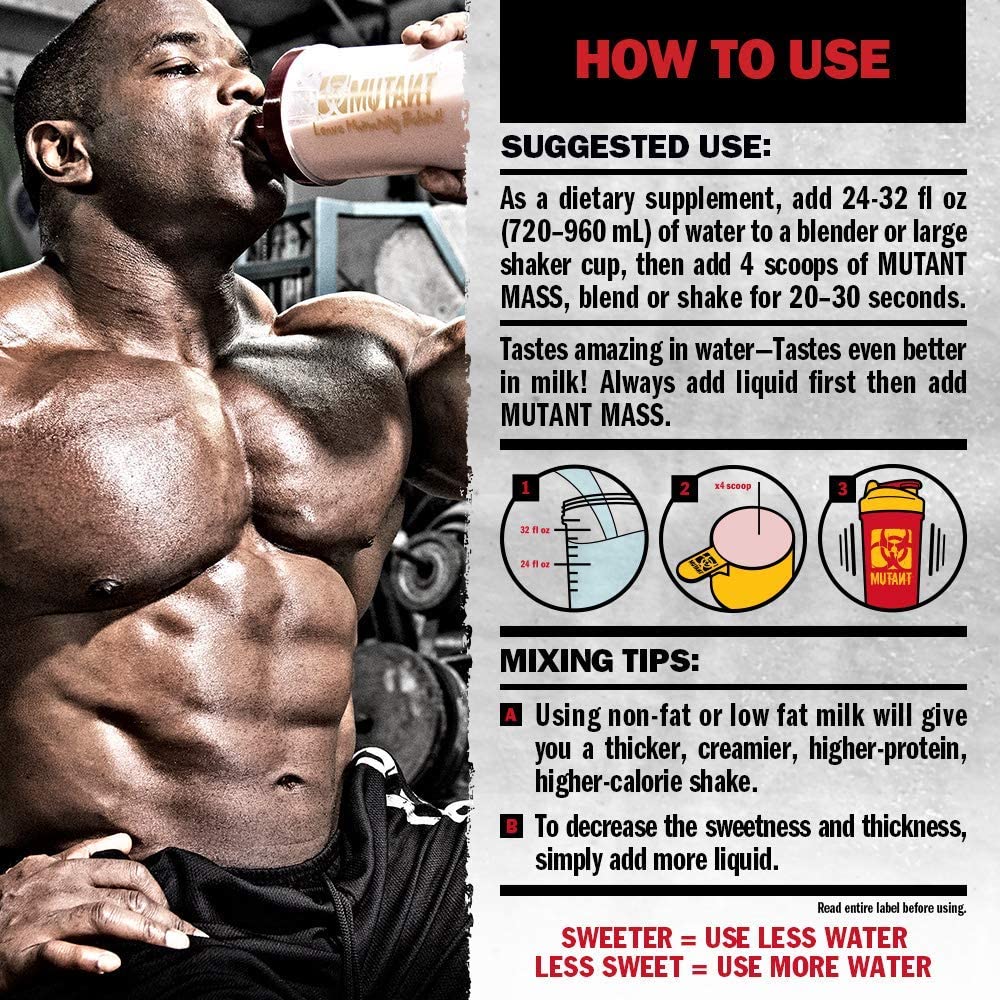 DON'T SETTLE FOR MAINSTREAM FORMULAS THAT FALL SHORT OF YOUR HIGH EXPECTATIONS, GET ON MUTANT MASS TODAY AND LEAVE HUMANITY BEHIND!